9 Awesome Ways To Organize A Bedroom
That Grows With Your Child
Any parent who keeps record of their child's height on a door frame knows that the pencil marks can increase by the inch (seemingly) by the week. A pair of pants you bought them in March will no longer fit come October, but at least their bedroom can stay as-is for years and years.
Right?
Not quite.
As kids grow, so do their tastes and interests. It's not necessary to completely overhaul their furniture after every birthday or at the dawn of a new hobby, but their room should reflect who they are. Preempt these changes by organizing a bedroom that can grow with your child through every shoe size, favorite song, and hair style.
Here are nine awesome ways to organize a bedroom so that it grows with your child — courtesy of MakeSpace, a full-service storage company that serves NYC, DC, Chicago, and LA.
Multifunctional furniture
No parent wants their child to grow up too fast. However, relishing in the baby years for as long as possible is no reason to waste money on single-purpose furniture.
Investing in quality pieces that can pull double duty — like this dresser/changing station — gives you the option of using the surface of a dresser as a changing table now (just add a padded mat), then removing it when your child is potty training. Meanwhile, the dresser drawers provide extra storage for diapers and wipes in the beginning, and jeans and jerseys years later.
Treat them as a mini adult
Buying a new bed at every stage of your child's life is unnecessary. Kids don't need to move from a crib to a race car bed, then to a twin, and finally to a full or queen. Instead, as soon as they're ready for a "big kid bed," make that bed the size they can grow into until they're off to college. Meanwhile, you're off transforming your empty nest into a full nirvana.
Using safety precautions like rails and bumpers as you see fit, this method eliminates the need to replace their bed and mattress every few years. You're already doing that with shoes, so save yourself the money and the headache!  
Decorate, change, and repeat with wall decals
Removable wall art instantly transforms a room on the cheap, giving in to your child's every phase without having to break out the paint roller. This year they may be into zoo animals, next year it will be space, and after that it will be fun polka dots and stars. Not a problem, as wall decals are easily interchangeable.
Add themed accessories
Ornate wall murals, bedding, and custom furniture are sure to bring a theme room to life, but you shouldn't need to spend an arm and a leg to foster your child's imagination.
For a cost-saving solution that still reflects their interests, include accessories that can be swapped out as they grow, when they inevitably find fascination in something else. Artwork, throw pillows, lampshades, and assorted knick knacks will tie the room together without any long-term attention span required.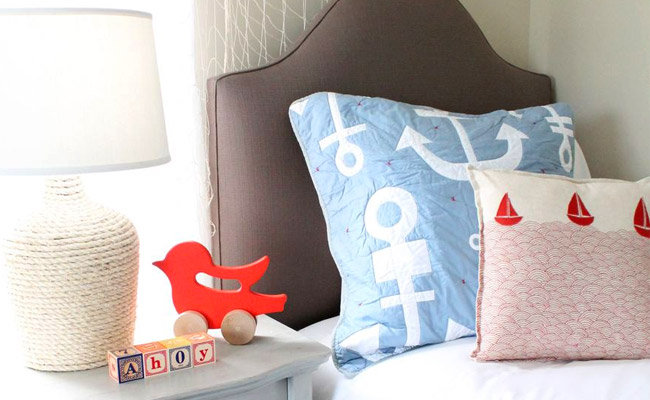 Go big for the littles
Your kids will always have stuff. Invest in a large, high-quality console or a chest of drawers so your kids have all of the storage space they'll ever need. As their stuff changes from pacifiers and swaddling blankets to puzzles and shin guards, this piece will keep everything safe throughout their childhood. One more spot to check for monsters, but it's worth it.
Keep maintenance in mind
If your child doesn't leave a chaotic mess in their wake, are they really a kid at all?
Even with storage systems in place and stain remover at the ready, a little disarray is unavoidable. Simplify clean-up with some easy-to-maintain additions.
Opt for machine-washable curtains, durable wood flooring, and wipeable paint on the walls. Any material or finish that doesn't bring you anguish at the thought of glitter glue spilling on it is a great choice. Also a good choice: monitoring all use of glitter glue.  
Become a convert
Repurposing furniture for different use down the line can help maintain the memory of a favorite piece while still giving it a function in your child's room. It's natural to become sentimental over items like their first crib or rocking chair, but when those items start taking up less nostalgic space and more physical space, they either need to get tossed or find a new role.
Once the crib is no longer in use, give it new life as a desk or activity station. An extra nightstand can transform into a fun play workbench. And hey, once those Terrible Two's are over, turning their changing table into a bar cart is not only functional, it's necessary.   
Hidden storage
Open storage is great to keep things easy-access for younger children, but certain items just don't need to be out in the open at all times. Store small toys, craft projects, and hand-me-downs that don't fit quite in a place that's out of sight.  
Under-bed storage, large baskets, or built-in shelving in the closet are all excellent ways to control the clutter while maintaining an element of style in the room.
Rearrange to provide more space
Sometimes, the simplest solution to updating your kid's room doesn't involve adding or removing anything — it just takes some rearranging.
Children that share a room are able to explore their individual identities with separated spaces. Creating a nook for each kid lets them express creativity in their own area without the need for giving them their own entire room. Kids that already have their own room can visualize the transition from "nursery" to "big kid room" by simply moving the bed from one wall to another.  
By organizing your child's bedroom with these tips in mind, you can create a beautiful room that will stand the test of time.
For even more inspiration on nurseries, check out 100 Stunning Nursery Theme Ideas and Decorations.